The music you're listening is "Fly", by Céline Dion
Susanna Marchesi's Biography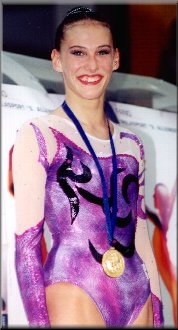 Beauteous yet Sweet
So kind and very meek
We do LOVE you!
And we hope that you'll se why, too! :-)
- just click on the picture to see it in full size -
---
Greetings! We're Laura Vigna and Roberta Diglio. We'd like to share with you some things about Susanna Marchesi, who is our Italian National Star! For this reason, we've decided to create this little Fanpage as a tribute to her for all the things she is, and, most assuredly, all the things she shall be!
But we really do hope you have a pleasant visit and enjoy your surfing... The waves are SUPER!!! :-)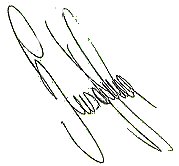 Susanna Marchesi was born on the 13th of March, 1980, in Arezzo, Italy. She's 172 cm (almost '5-''8) tall and her weight is 47 kg (103.5 lbs). Her family consists of her father, Enrico, her mother, Tina, and her brother, Orlando. She's very fond and close to all of them; she always feels them near to her, even when distance keeps them apart.
Her career as a rhythmic gymnast actually begins as the result of an unexpected event: after a beginning as an artistic gymnast, she soon realizes that her 11 year old body is not very well adapted for the artistic discipline of the sport. She then, and thankfully for her fans today, is offered a new beginning in RSG. Unfortunately, Susanna doesn't care at all for it at first. Her initial reaction and view of rhythmic gymnastics is more as some circus activity, rather than a true sport! But soon she's won over and falls in love with its charm and undeniable appeal, as have we all! And so begins her life and story as a rhythmic gymnast...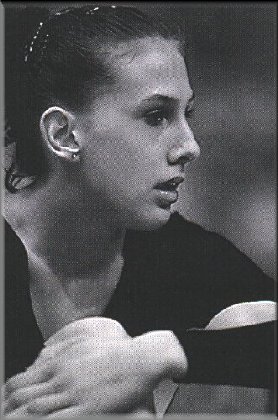 Susanna is truly a wonderful gymnast: She's blessed with excellent flexibility, prodigious amplitude and elevation in her jumps, a natural grace of movement, and an innate feel for the interpretation of her music. All of which adds magnificently in creating a natural, fluid, and harmonious presentation and performance to her routines. And adding even further to her credit, very rarely does she fall victim to her own emotions, instead, she's, more often than not, able to check and subdue her nerves and perform a routine to the paramount of her and its possibilities: she's learning rapidly to become expert on the rhythmic floor. BRAVA!
In her career, Susanna has also been aided by an excellent and determined character: so determined and tenacious that she doesn't want to give up an element of her routine, even if it means trying and trying again... But she's also very sociable and sweet. An enviable combination, indeed! Her likable and very agreeable nature cannot help but be made evident to anyone who has had the pleasure of witnessing one of her warm and natural smiles during a performance on the floor.
Her coach, since 1991, has been Manola Rosi. And Susanna feels strongly that Manola is the best coach she could have ever pretended for herself. A coach and gymnast's relationship is so important, and they are obviously a match made in RSG heaven! Susanna trains for the club "Francesco Petrarca", in the Follonica Center, where she's in training 6 hours a day, as one of the "ballerine del Golfo del Sole", the inhabitants would say... Now, she trains with another coach, besides Manola: she's Olga Boujanova, (Oksana Kostina's one!!). During the training, she's very concentrated, only able to hear Olga's voice, because she feels that she really understands her: she likes her, and her way to coach, and she tells that she has to thank her because of the brilliant result at the 1999 World Championship. She works with the National choreographer, Natalie, too. Her sportive aim is to participate in the Olympic Games in Sydney, Australia. She'll work diligently torwards this goal, thinking always of former great, Larissa Lukyanenko, her favourite rhythmic gymnast and source of inspiration. She also likes Elena Vitrichenko of the Ukraine a lot, too! After all, Elena's a TRUE great and an inspiration for many rhythmic gymnasts in her own right! She thinks she's the best, so elegant and beautiful, and she's really disappointed because of her last results (jury problems... it's better not to talk about it... probably you know a lot about them...). Susanna's fond feelings DON'T extend to the former star of RSG from the Ukraine, Ekaterina Serebrianskaya.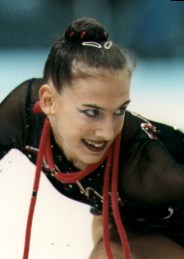 One time, her favourite apparatus is clubs (now: rope). For her first World Championships, she used them very softly, incorporating dulcet music, with a calm and graceful progression of movements, that flowed over one as a warm summer's breeze caressing the eyes and emotions with beauty. Simply put: it was elegance personified! What a splendid example of the potential that this fine girl possesses! And already she shows a maturity in understanding and performance of the elements of rhythmic gymnastics much beyond her youthful years. LOVELY! Now, she loves rope a lot, and her new routine based on a lively and cool music by Metallica. In this performance, her expression is something amazing: she's very witty and happy and she dances with the music. So thrilling!
Her hobbies include: drawing clothes and going dancing. Maybe with Arianna Rusca? It's where they were planning to go the first time we had the pleasure of meeting and speaking with her at the Arezzo, Italy! Her favourite kinds of music are underground, disco music and she likes Lighthouse Family as well. Besides Arianna Rusca, Laura Zacchilli is another great friend of hers: they're like sister, but they're obvious rivals on the floor, since they're the two greatest Italian gymnasts.
And one of her dreams is... living another life as a flamingo! "So regal in flight, so slender, so lofty...", says Susanna.
Go and fly! Soar to the heights! And may you become all that you can be and reach the pinnacle of your dreams, and ours for YOU! Our beloved, Susanna!!!!!
Thanks for stopping in and visiting with us! May you, too, reach all your hopes and dreams!
Please Come By Again!!! Your hosts, Laura and Roberta. =D

©Laura Vigna & Roberta Diglio