The music you're listening is "Fame"
Daniela Masseroni (ITA)
Achievements - Pictures - Musics - Videos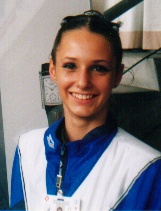 Name: Daniela Masseroni
Birthday: 28th February 1985
Birthplace and Residence: Bergamo
Club: A.S.Orobica
Coach: Daniela Gamba
Started Rg at : 8 years
Favourite gymnast : Elena Vitrichenko
Daniela is the new star in Orobica's sky! We can already consider her as a hope in the Italian gymnastic panorama. Her club is A.S. Orobica, but in Italian Serie A championships she competes in Virtus Gallarate Club. In 2000 she was fourth in the Italian Championships (Juniores). She is now a member of the Italian Individual team.

©Laura Vigna & Roberta Diglio