The music you're listening is "Fame"
Italian Gymnasts
Italian Rhythmic Gymnastics has always been very interesting: names like Samantha Ferrari, the only one who was able to get a bronze medal during World Championships, Irene Germini, Katia Pietrosanti... then, the "Second Generation", whose top can be considered the '96 World Championships, where the Italian team got an excellent result and many congratulations. It was a great promise for the future (read the interview about it). It was the time of the great Susanna Marchesi, Laura Zacchilli, Arianna Rusca, Martina Nadalini. At the same time, Italian Group was getting good results, too: look at the Sydney experience... Unfortunately, mass media never understood its importance, and rhythmic gymnastics has always been almost unknown. But we think that the Italian gymnastics is developing and developing, better and better, and we're waiting for always new stars to come out: GOOD LUCK! That's reason of these pages... hope you will enjoy them and learn something more...
---
Former Italian Rhythmic Gymnasts: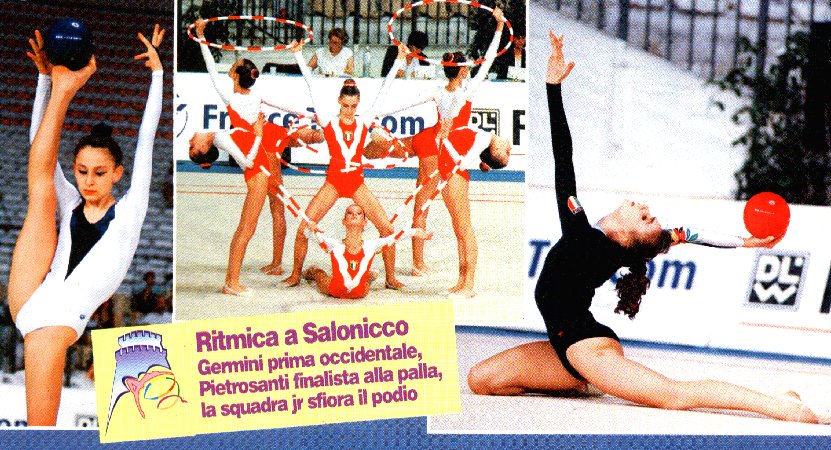 BORGNA Roberta

IEZZI Noemi

FERRARI Samantha

GERMINI Irene

NADALINI Martina

PIETROSANTI Katia

RUSCA Arianna

SANTAGATA Vera



Active Italian Rhythmic Gymnasts:

LAURITO Romina

MARCHESI Susanna

ZACCHILLI Laura

MASSERONI Daniela

PAGLIACCIA Desirée

VERNIZZI Laura



New Talents:

D'OTTAVIO Fabrizia New!!!

FOLETTI Patrizia

PRECE Nicole
Italian Group:
Former Group:

AMATO Elena

D'AMORE Eva

GREGORINI Silvia

IEZZI Noemi

LUCENTINI Roberta

RUSCA Arianna

RICCARDI Valentina



Active Group:

BLANCHI Elisa

BOLLO Linda

CUGURRA Francesca

FALCA Marinella

MASTROIANNI Pamela

SANTONI Elisa

SOLARI Laura
---
---
Pictures copyright: Laura Vigna; "Il Ginnasta", Italian magazine; Inger Marit Arnestad; Alexander Kochann; Robert Hockley; Tom Theobald; Karol Otero.
---

©Laura Vigna & Roberta Diglio