The music you're listening is "Fame"
Rhythmic Gymnastics, satisfaction for the achieved final of the Italian girls
by Giuseppe Rendine
(10:45) SYDNEY - The RSG girls are overjoyed. They reached the olympic final of the Group competition and that's a huge success. Societies are very satisfied because of this result that rewards the employed for a lot of sacrifices, almost always obscure and far from the press. On Saturday, the most important engagment of their carreers will happen to the six azure girls (Elena Amato, Eva D'Amore, Silvia Gregorini, Noemi Iezzi, Roberta Lucentini, Arianna Rusca). The set will be the Pavilion 3 of the Olympic Park in Sydney.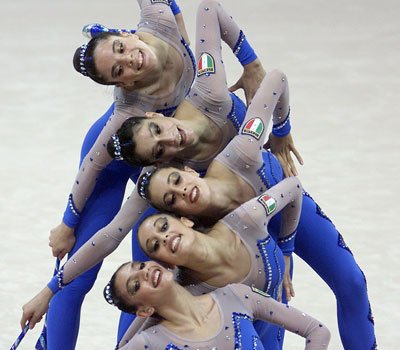 The azures have had a narrow shave: they placed eighth, indeed. During the first rotation they were sixth, then they went two step backwards. It's all fault of the big excitement that at the Olympics takes even the most expert athletes.
"The important thing was to qualify for the final - Piero Quargnali, leader of federation, states satisfied - and to have entered the élite of world RSG. Think about, for example, that countries like France and Spain have been eliminated, and such a thing underlines our girls' test. We consider this result really remarkable". Now it's the turn of Susanna Marchesi, the only Italian athlete engaged on the individual competition. The gymnast from Arezzo will try to get a place between the 24 girls that will compete for the gold medal on Sunday.
At present, Marchesi takes the sixteenth place in world ranking. the admittance to the final shouldn't be so hard. "The girl worked hard - Quargnali says -, she prepared herself and expects to succeed".

©Laura Vigna & Roberta Diglio